Loveland
Supra Captan 80 WSP
SKU:
1005031
SUPRA CAPTAN 80 WSP is a water dispersible granule sealed within individual water- soluble pouches. The pouches and pesticide will dissolve readily in water for use as a spray for the control of certain fungus diseases of fruit, vegetables and ornamental crops. SUPRA CAPTAN 80 WSP is also useful as a soil treatment for the control of certain seed-rots and damping-off diseases.
Use
Registered on: Greenhouse ornamentals, Rhubarb, Apple, Pear, Cherry, peach, plum, prune, apricot, nectarine, grape, cucumber (field grown), potato, tomato (field grown), strawberry (field grown), raspberry, highbush and lowbush blueberry, blackberry, loganberry, ginseng, outdoor ornamentals, turf, sod.
For the management of: Scab, Sooty Blotch, Fly Speck, Brook's Spot, Bitter Rot, Black Rot, Bull's Eye Rot, Brown Rot, Leaf Spot, Black Knot, Dead Arm, Downy Mildew, Botrytis, Spur Blight, Cane Spot, Mummy Berry, Gray-Mold Rot, Leaf Rot, Anthracnose, Early Blight, Late Blight, Septoria Leaf Spot.
For a full list of crops and application directions, refer to the product label. Always read and follow label directions.
Active Ingredient
Class
Group  M4  Fungicide
PCPA # 33641 
Documentation
Share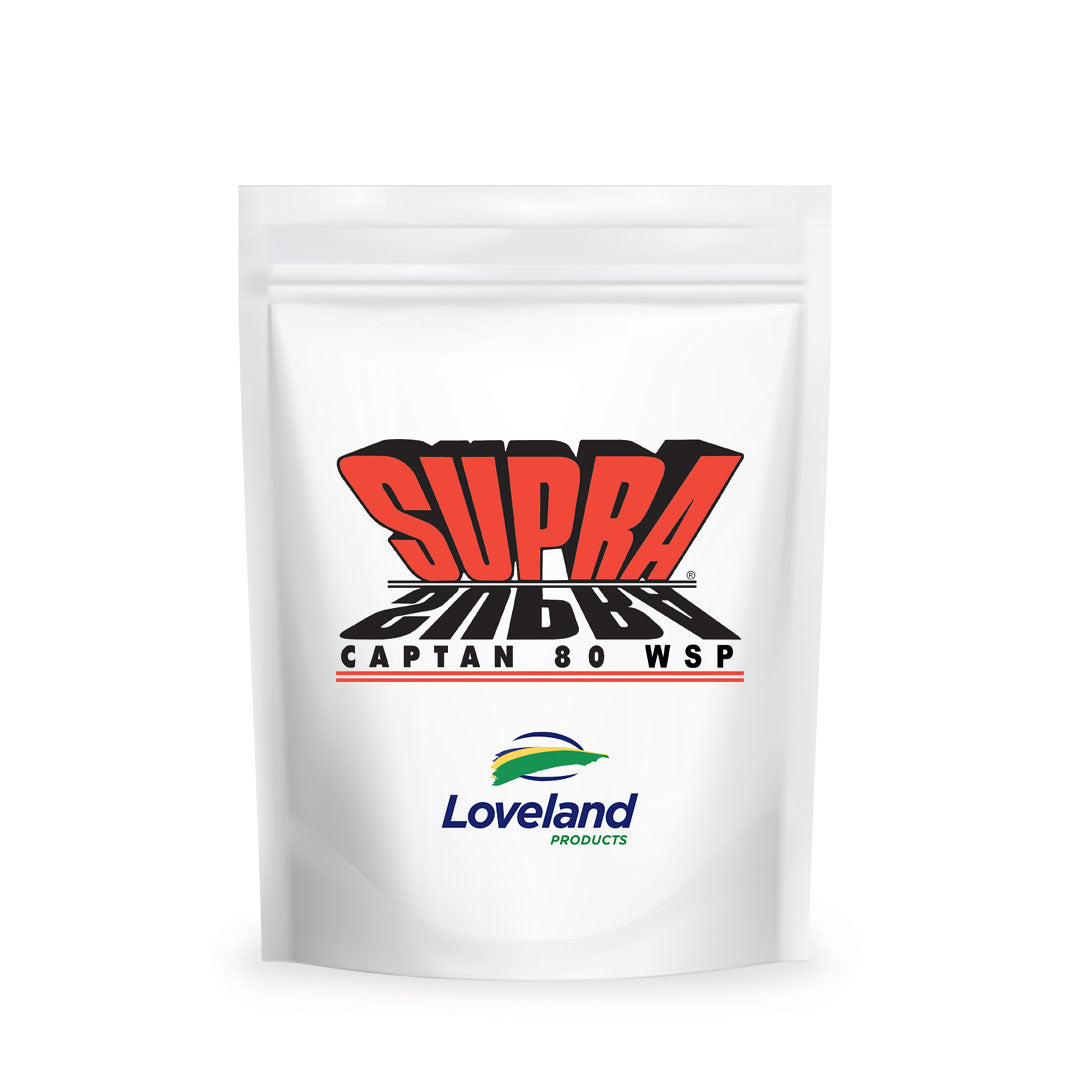 About Loveland

Loveland Products Canada offers a complete line of high performance crop input products including seed treatment, plant performance, nutritionals, adjuvant and crop protection products. We bring new, unique chemistries to the marketplace to provide innovative solutions to problems across the agricultural and professional non-crop industries.

Please Note:

Regulations prohibit sale of pest control products outside Canada. For more information about pest control product regulations within Canada, please refer to this summary.