Plant-Prod
Solutions 17-5-17 Fusion
SKU:
3015960
Plant-Prod Solutions Fusion is designed to provide nitrogen, phophorus, potassium, calcium and magnesium in the same single tank. It eliminates the need to switch between different formulations for a complete fertilization program. It promotes balanced growth of plants and has little impact on soil pH.
Plant-Prod 17-5-17 Fusion has enhanced micronutrient availability designed to supply complete nutrition in a patented easy-to-use duo bag.
Features
5 macronutrients in one bag – Nitrogen, Phosphorus, Potassium, Calcium & Magnesium
Micro Plus Enrichment – Fortified Micronutrients
EDTA chelating agent for improved availability of iron and other micronutrients over a wide pH range.
Patented Duo bag – two bags in one
Tested balance of nitrogen sources for soilless production – high nitrate – no urea
Neutral formulation – minimal impact on pH
Benefits
No need to alternate formulas for a complete nutritional program
Innovative technology you can use with pride
Save time, reduce errors – no switching of formulas
More efficient use of nutrients – overall cost savings
Consistent, predictable growth
Indications
The following conditions indicate the need for Plant-Prod Solutions Fusion.
pH level of media tends to remain constant
Currently supplemented with iron or other micronutrients
Label

SDS
Share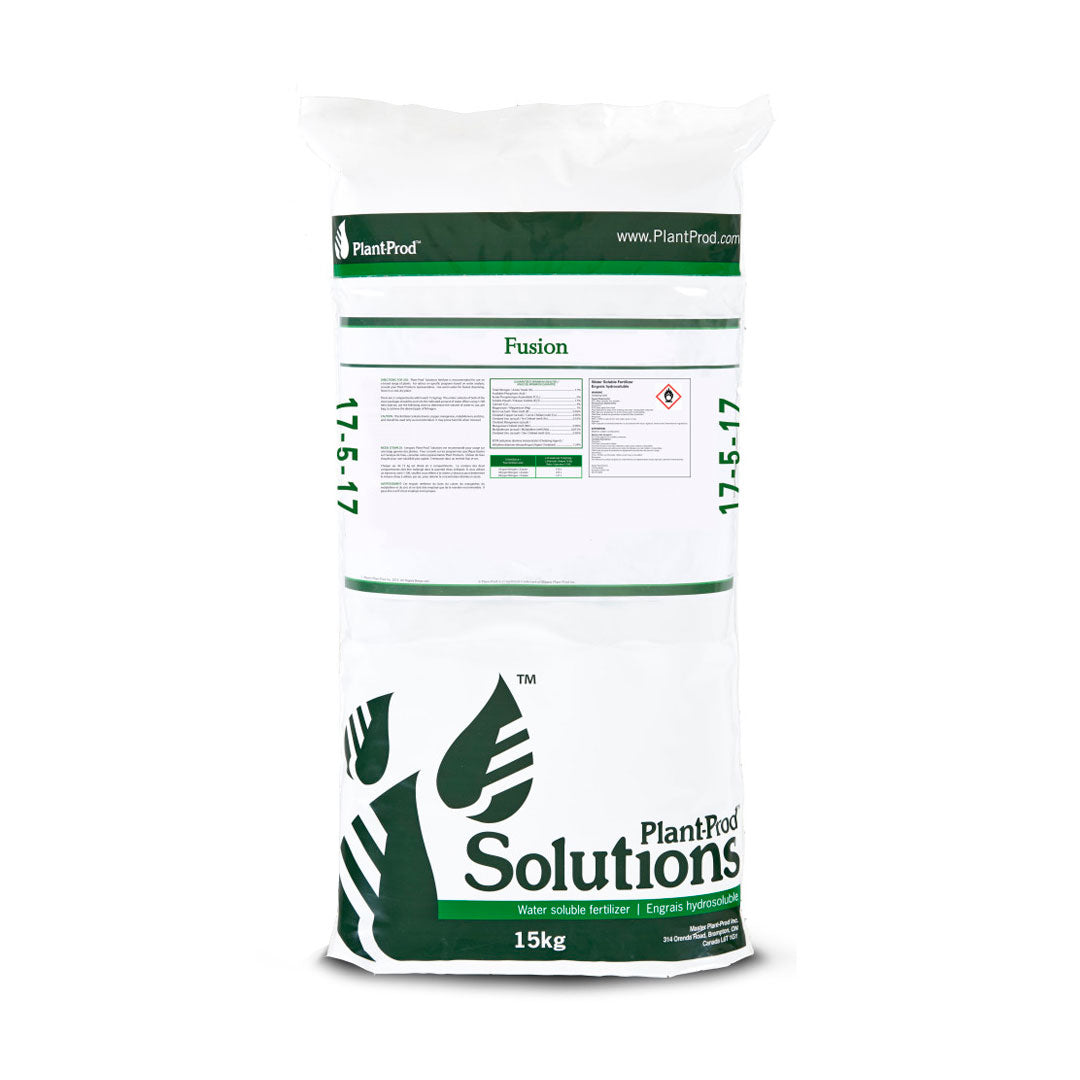 About Plant-Prod

Plant-Prod is the trading name of Master Plant-Prod Inc. with headquarters in Greater Toronto, Canada.
The company has been in business since 1945 manufacturing high quality soluble fertilizers for growers of high value crops, including the horticultural industry, greenhouse vegetables and other growers with demanding requirements. Plant-Prod's mission is to provide best in the world soluble plant nutrition.

Didn't find what you were looking for?

We take pride in being able to offer a vast array of products and services for professional growers. If you can't find what you need, please don't hesitate to ask us. We may be able to help.

Contact us