BioSafe
BioCeres G-WP
SKU:
TL01004090
BioCeres WP is an insect-pathogenic bioinsecticide using the
Beauveria bassiana
fungus. The OMRI listed ANT-03 strain is approved for organic production and is perfectly suited in IPM programs, in a tank mix with other pesticides as well as specific, stand-alone use. BioCeres WP is used for the biological control of whiteflies, aphids, thrips, and plant bugs. Use BioCeres WP for all stages of insect growth, including eggs and diapausing insects. BioCeres WP works by germinating and entering the insects body, feeding on the insect's innards until death follows. Use on a wide-range of crops as both a foliar spray or a drench.
Use
Registered for use on:
Ornamental crops
Tomato
Cucumber
Peppers
Eggplant
Strawberry
Herbs and spices (Crop Group 19)
Mint
Sweet potato slips
Brassica vegetable transplants
Onion transplants
Cannabis (marijuana)
For the management of: Numerous pests at all life stages, including, but not limited to, whiteflies, aphids and thrips.
For a full list of crops and application directions, refer to the product label. Always read and follow label directions.
Active Ingredients

Hydrogen Peroxide
Peracetic acid
Class

Ecocert, PCPA # 31231
Documentation
Label   |   SDS   |   Ecocert   |   Tech Sheet
Share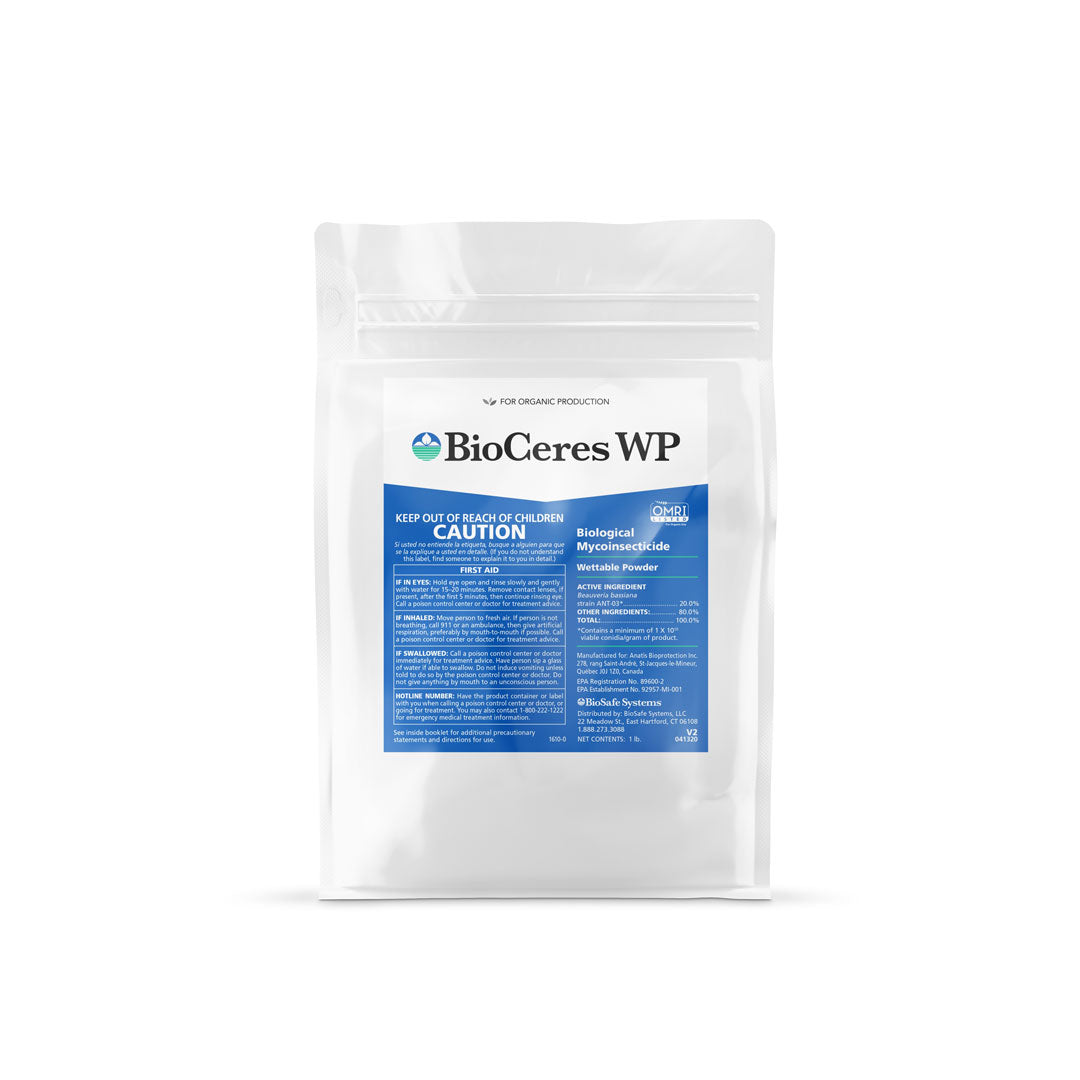 About BioSafe

BioSafe Systems is a family-owned manufacturer of biodegradable crop protection, sanitation, and water treatment products.

Please Note:

Regulations prohibit sale of pest control products outside Canada. For more information about pest control product regulations within Canada, please refer to this summary.