AEF Global
Bioprotec Plus
SKU:
TL01004110
Bioprotec Plus is an aqueous biological insecticide for use on agricultural and greenhouse crops, forests, woodlands, ornamentals, residential and other treed areas. It is composed of Btk (Bacillus thuringiensis ssp. kurstaki) to control lepidopteran larvae (caterpillars). Resistant to UV light, Bioprotec CAF will last for up to 8 days on the leaves of all types of plants.
Use
For the management of cabbage looper, Imported Cabbage Worm, Diamond Back Moth, Leafrollers (Fruittree, European, Oblique-banded, Three-lined), Essex Skipper, Hornworms, Rangeland Caterpillar  Winter Moth, Fruitworms, White Marked Tussock Moth, Green and Brown Spanworm, Sunflower Moth, Early and Late Season Oblique Banded Leafrollers, Tomato Fruitworm, European Corn Borer, Grape Berry Moth, Bagworms, Leek moth, Blueberry Spanworm (Itame argillacearia), Chainspotted Geometer (Cingilia catenaria), Rannoch Looper (Itame brunneata), Cranberry Fruitworm, Cherry Fruitworm, Box Tree Moth (Cydalima perspectalis). 
Registered on: Radish, bok choy, broccoli, Brussels sprouts, cabbage, cauliflower, celery, collards, kale, lettuce, mustard greens, parsley, potatoes, spinach, herbs, apples, apricots, cherries, peaches, pears, plums, hazelnuts, walnuts, sweet chestnuts, cranberries, blueberries, raspberries, tomatoes, cucumbers, peppers, eggplants, ornamentals, cannabis.
For a full list of crops and application directions, refer to the product label. Always read and follow label directions.
Active Ingredient

Bacillus thuringiensis var. kurstaki
Class
Group  11  Insecticide, Ecocert
PCA # 32425
Documentation
Share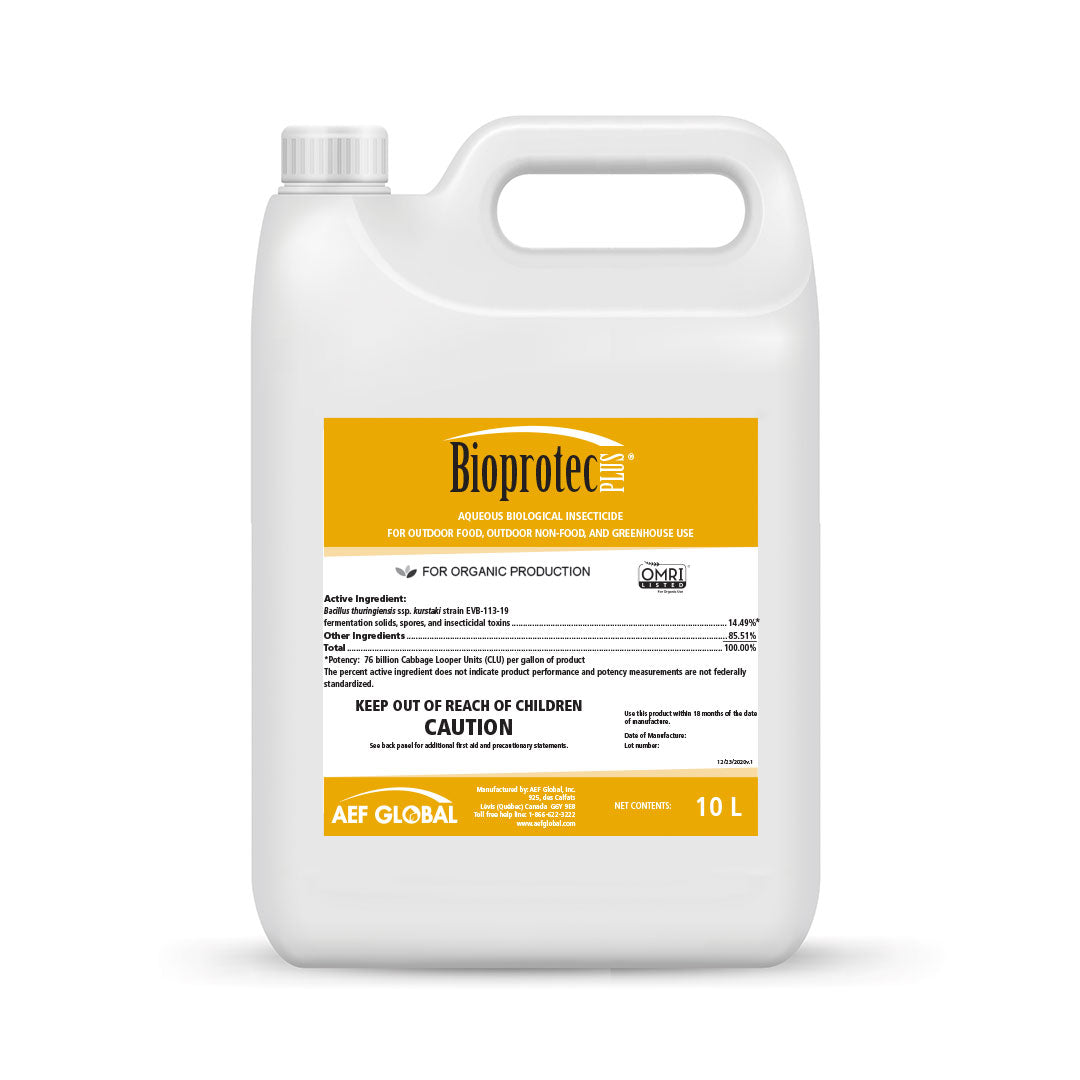 About AEF Global

AEF Global is a Canadian company specializing in the manufacture and marketing of biopesticides, which are increasingly used in IPM strategies for agriculture, forestry and ornamental horticulture.

Please Note:

Regulations prohibit sale of pest control products outside Canada. For more information about pest control product regulations within Canada, please refer to this summary.