BASF
Centurion Amigo Co-Pack
SKU:
1005400
Centurion is a post-emergent control of the toughest grassy weeds in canola, flax and pulses. It has a wide window of application and tank-mix flexibility for enhanced weed control. No follow-crop restrictions. Sold and to be used with Amigo Adjuvant. Amigo was developed to maximize the performance of pesticides by increasing the deposition and coverage of chemicals on the target crop.
Use
For the control of grasses in canola, flax (including low linolenic acid varieties), dry bulb onions, dry bulb shallots and garlic, potatoes, yellow mustard, oriental (brown) mustard (condiment and oilseed types), brassica carinata, legume vegetables (succulent or dried) and edamame, seedling alfalfa, sunflowers, fenugreek, coriander, spinach, prairie carnation, highbush blueberries, safflower, cranberries, dill, caraway, basil, red garden (table) beets, parsnip, carrots, radish, cherries (sweet and tart), certain herbs, spices and hops.
For a full list of crops and application directions, refer to the product label. Always read and follow label directions.
Active Ingredient
Centurion: Clethodim
Amigo: Phosphate Ester Surfactant
Class
Centurion: Group  1  herbicide, PCPA # 27598
Amigo: PCPA # 22644
Documentation

Centurion:  Label   |   SDS   |   Tech Sheet




Share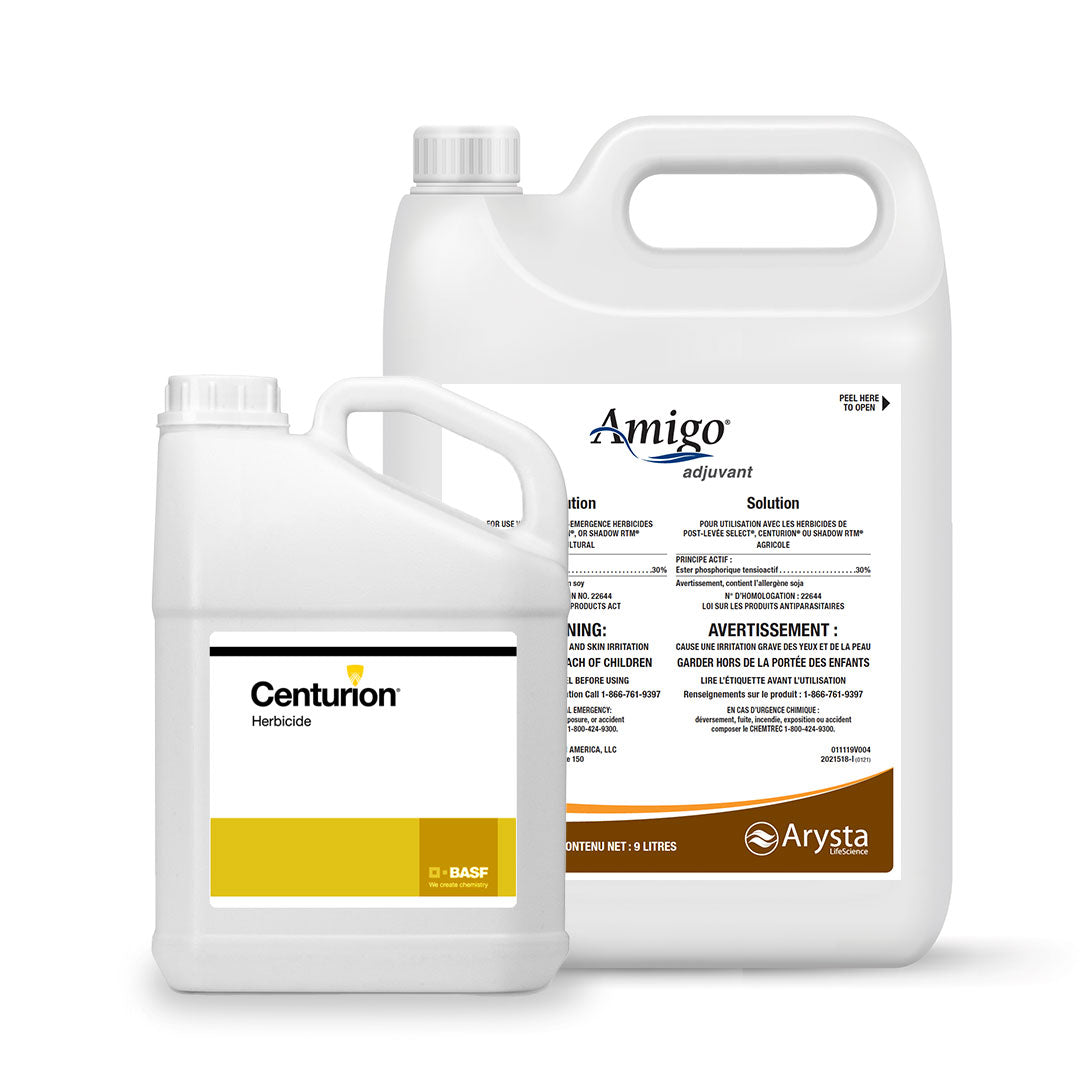 About BASF

At BASF, constant innovation is at the core of what they do. They are dedicated to providing the products, support and resources growers need to overcome agronomic challenges and get the most out of every acre.

Please Note:

Regulations prohibit sale of pest control products outside Canada. For more information about pest control product regulations within Canada, please refer to this summary.