Certis
Double Nickel LC
SKU:
1009070
Double Nickel LC features a naturally occurring bacterium that rapidly colonizes plant surfaces and impedes the development of disease-causing organisms, presents no risk to the environment or beneficial species, enables growth through improved nutrient uptake, and provides reliable tank-mix compatibility with a variety of other products. This product is OMRI registered and Ecocert approved.

Use
For the management of:
Powdery mildew
Sclerotinia spp.
Botrytis spp.
Alternaria spp.
Bacterial leaf spot
Bacterial spot and speck
Fire blight
Xanthomonas ssp.
Monilinia ssp
Registered on: Cucumbers, squash, tomatoes, peppers, apples, pears, soybeans, potato, lettuce, grapes, strawberries. 
For a full list of crops and application directions, refer to the product label. Always read and follow label directions.
Active Ingredient

Bacillus amyloliquefaciens strain D747
Class
Group  44  Fungicide / Bactericide, OMRI listed
PCPA # 31887
Documentation

Share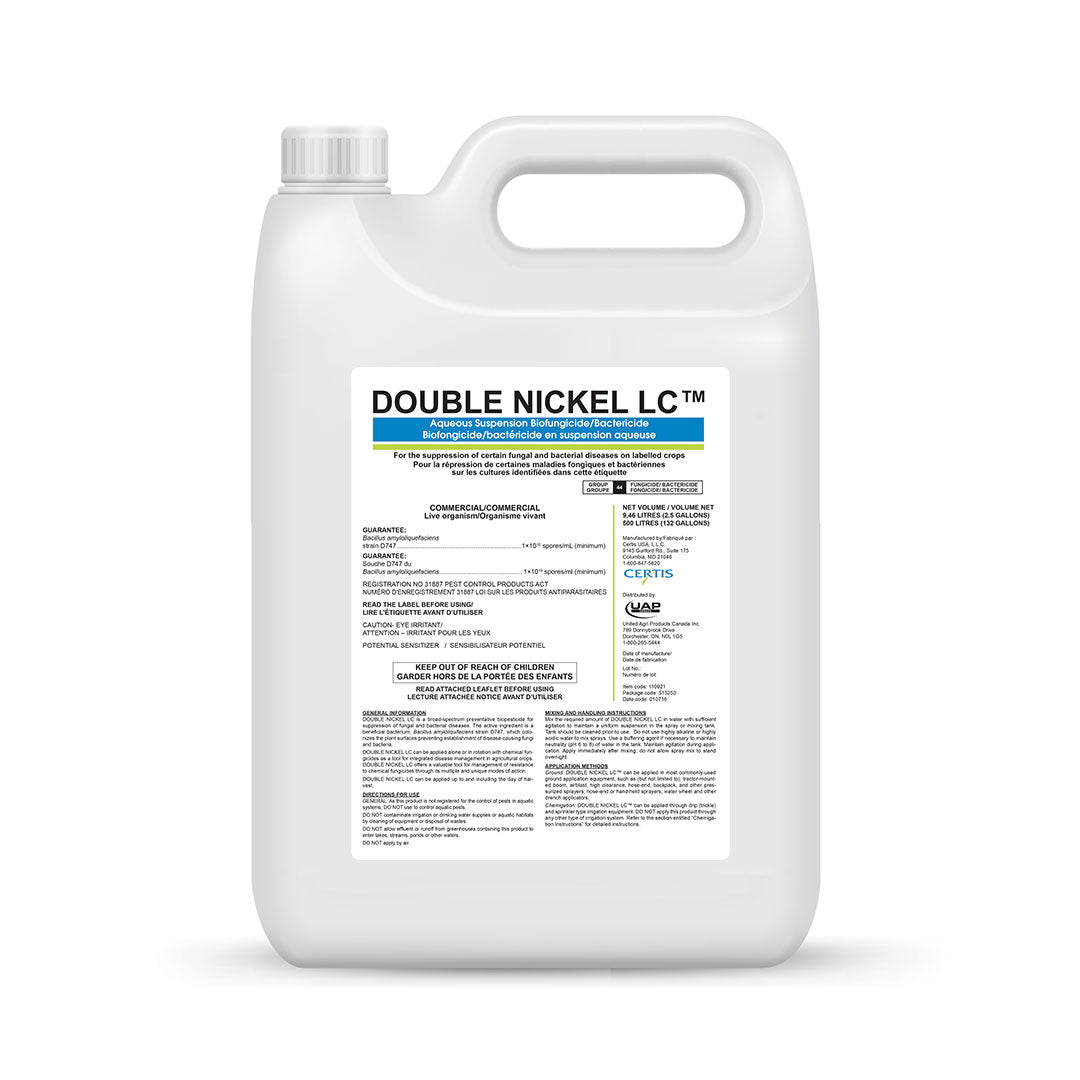 About Certis

For more than three decades, Certis Biologicals has been a pioneer in the field of biological pesticides for commercial agricultural use. We are a leading manufacturer of bio-based products, with innovative technologies and production expertise spanning from fermentation to formulation.

Please Note:

Regulations prohibit sale of pest control products outside Canada. For more information about pest control product regulations within Canada, please refer to this summary.