UPL
Orthene
SKU:
1009405
Maximize yield and quality with Orthene® 97 SG insecticide. Orthene delivers a one-two punch to control insects in valuable vegetable crops and ornamental plants. First, Orthene controls foliar-feeding pests on contact. Second, the product is quickly taken up by plant tissue; insects that feed on treated foliage are controlled for two-to-three weeks.
Contact and systemic activity for a one-two punch against insect pests
Very effective on sap-feeding insects
Quickly absorbed into plant tissue for long-lasting, rain-fast control
Degrades rapidly in the soil, helping to minimize environmental impact
One of the few products in Canada for registered for wireworm control (see label)
Economically controls aphids and hornworm in tobacco
Extensive ornamental label
Use
Registered for use on bell peppers, brussel sprouts, cabbage, cauliflower, head lettuce, celery, sweet corn, seed corn, ornamentals, trees and cut flowers (greenhouse and outdoors), cranberries, saskatoon berries, tomato seedlings, ornamentals, non-cut flowers (outdoors), ornamentals grown for cut flowers (outdoors, greenhouse), trees (coniferous and deciduous), Christmas trees, etc.

For the control of cabbage looper, imported cabbageworm, diamondback moth larvae, green peach aphid , tarnished plant bug, european corn borer, woolly elm aphid, woolly apple aphid, pepper maggot, tomato hornworm, flea beetle, darksided cutworm, root maggot, thrips, wireworm, blackheaded fireworm, cutworms, potato flea beetle, aphids, colorado potato beetle.
For a full list of crops and application directions, refer to the product label. Always read and follow label directions.
Active Ingredient
Acephate (O,S-dimethylacetylphosphoramidothioate)
Class
Group  1B  Insecticide
PCPA # 29499
Documentation

Share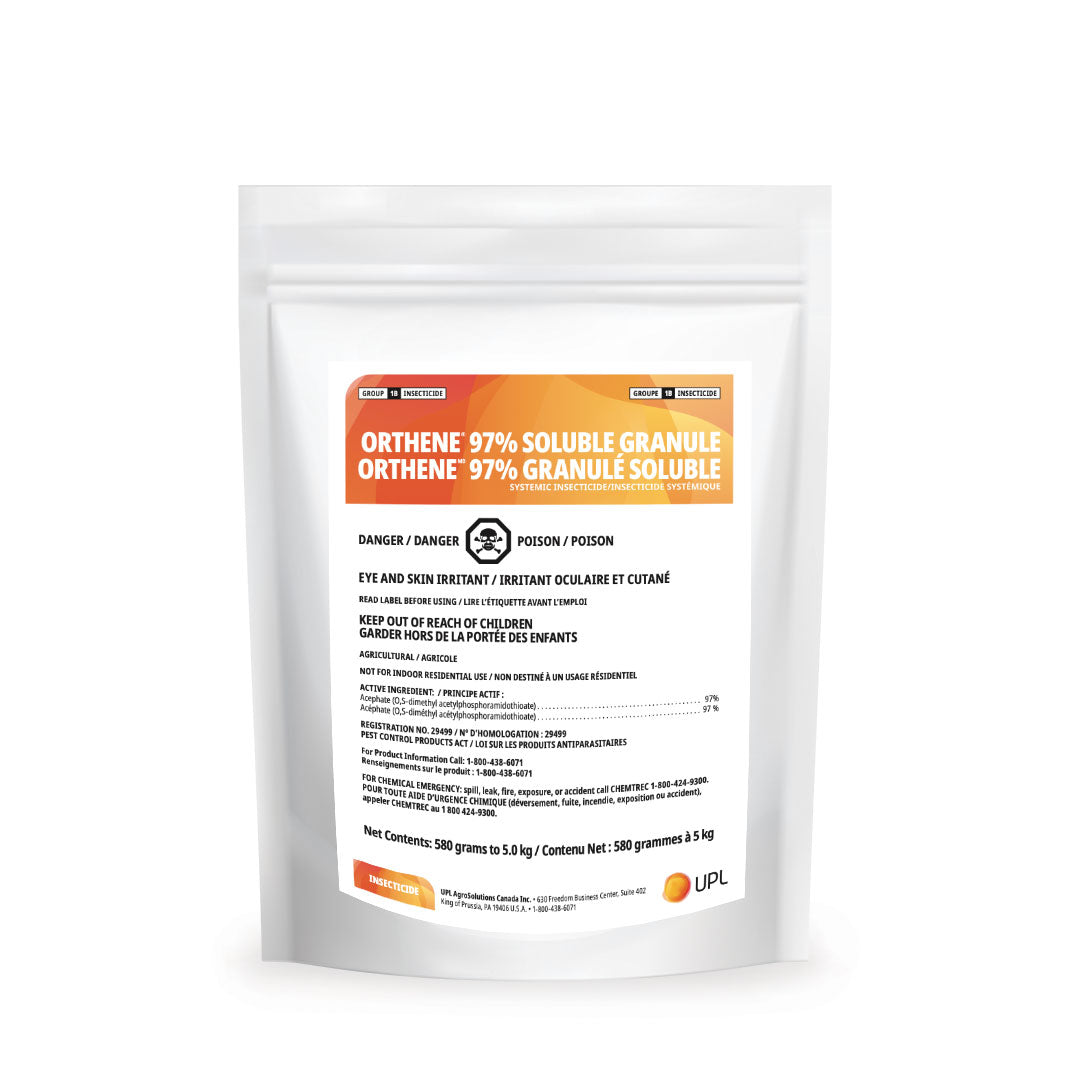 About UPL

UPL's vision is to be an icon for growth, technology and innovation. Their mission is to change the game and to make every single food product more sustainable.

Please Note:

Regulations prohibit sale of pest control products outside Canada. For more information about pest control product regulations within Canada, please refer to this summary.