Envu
Rhapsody ASO
SKU:
12201140
Rhapsody® ASO is a broad-spectrum, preventative biofungicide for the suppression of many greenhouse vegetable, greenhouse ornamental and outdoor ornamental fungal and bacterial-related diseases.
Based on a naturally occurring patented strain of Bacillus subtilis (strain QST 713), Rhapsody is equipped with a combination of naturally occurring antifungal and antibacterial lipopeptide compounds. These compounds utilize multiple modes of action to destroy pathogens, making Rhapsody an effective resistance management tool.
Use
For the control of common fungal diseases such as powdery mildew, botrytis, anthracnose and leaf spots. Rhapsody also suppresses bacterial diseases such as Pseudomonas spp., and Xanthomonas spp., as well as soil diseases Rhizoctonia, Pythium and Phytophthora.
Registered on:
Leafy vegetables, lettuce, cole crops, fruiting vegetables, cucurbits, herbs & spices, Ornamentals, Turf, Sod, Lawns, Golf Course, (Fairways, Roughs Greens, Tees), 
Bluegrass, Bentgrass, Fescue, Orchard grass,
Poa Annua
, Ryegrass
Wasabi (greenhouse)
For a full list of crops and application directions, refer to the product label. Always read and follow label directions.
Active Ingredients
QST 713 strain of dried Bacillus subtilis
Class

Groups
 BM02 
 Fungicide, OMRI registered
PCPA # 28627


Documentation


Share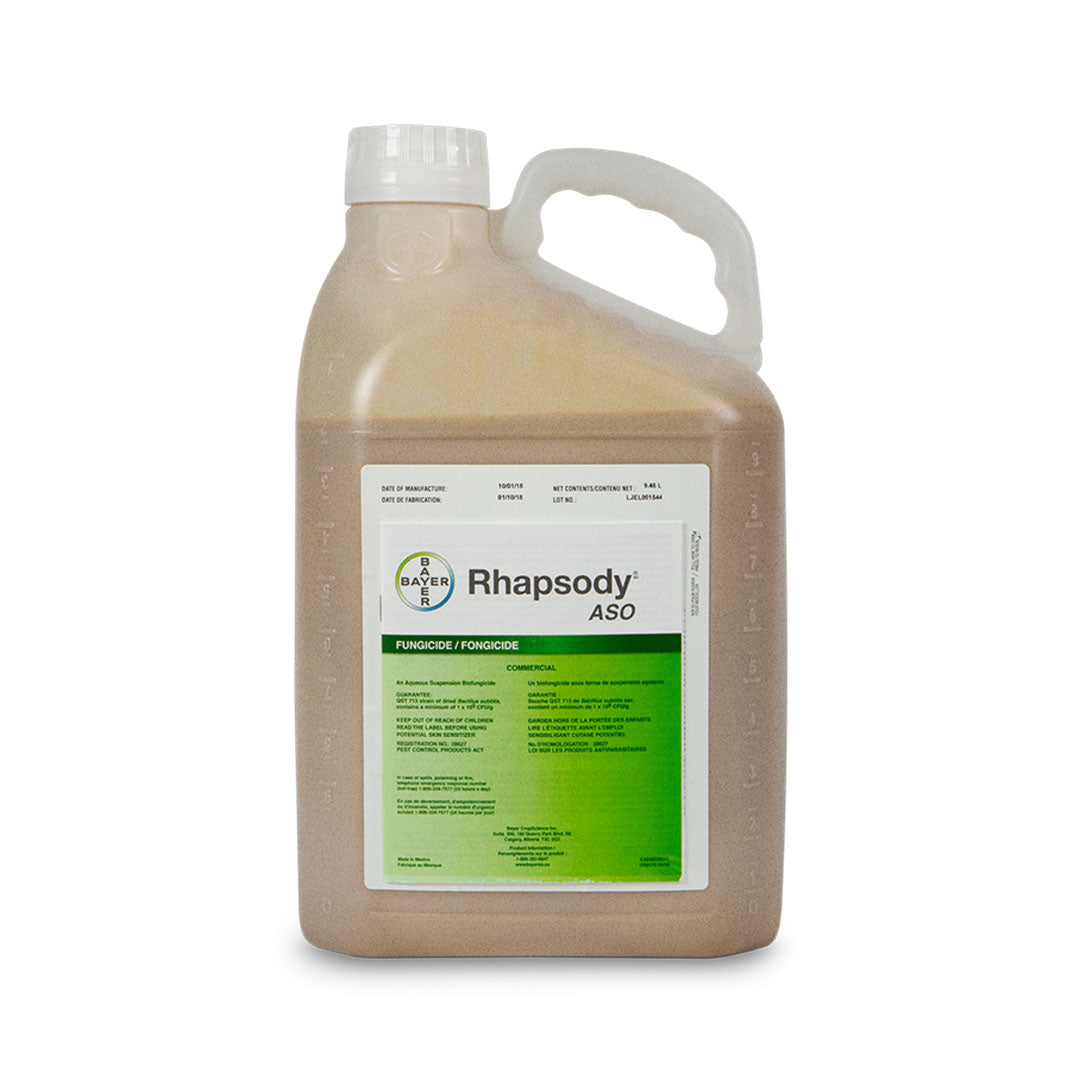 About Envu

Across each of our lines of business, Envu focuses their work in chemistry and beyond, collaborating with their customers to come up with innovative solutions that will work today and well into the future.

Please Note:

Regulations prohibit sale of pest control products outside Canada. For more information about pest control product regulations within Canada, please refer to this summary.