UPL
Rimon 10 EC
SKU:
1201340
RIMON Insecticide is a broad-spectrum larvicide and ovicide with long residual control that's ideal for your integrated pest management program. Rather than attacking fully grown insects like most insecticides, the active ingredient in RIMON goes after eggs, larvae and nymphs while remaining easy on beneficials.

RIMON® provides excellent control of key pests in apples, stone fruit, berry crops, potatoes and many vegetable crops. It's particularly effective on codling moth and Oriental fruit moth in apples, and on Colorado potato beetle and European corn borer in potatoes. RIMON, an insect growth regulator, disrupts cuticle formation and deposition, a unique mode of action that makes it an excellent resistance management tool. 
Use
For Control and Suppression of Listed Insect Pests on Apples, Potatoes, Stone Fruits, peppers (bell and Non-Bell), snapbeans, strawberries, Head and Stem Brassica Vegetable Crops (broccoli, Chinese broccoli, brussels sprouts, cabbage, Chinese cabbage (napa), Chinese mustard cabbage (gai choy), cauliflower, Cavalo broccoli, and kohlrabi), Leafy Brassica Greens (Broccoli raab (rapini), Chinese Cabbage (bok choy), Collards, Kale, Mizuna, Mustard Greens, Mustard Spinach, Rape Greens, Bushberries (Crop Group 13-07B), Lowbush cranberries, sweet corn, celery, carrots and alfalfa grown for seed. Greenhouse tomatoes and bell peppers.
For a full list of crops and application directions, refer to the product label. Always read and follow label directions.
Active Ingredient
Novaluron
Class
Group  15  Insecticide
PCPA # 28515
Documentation



Share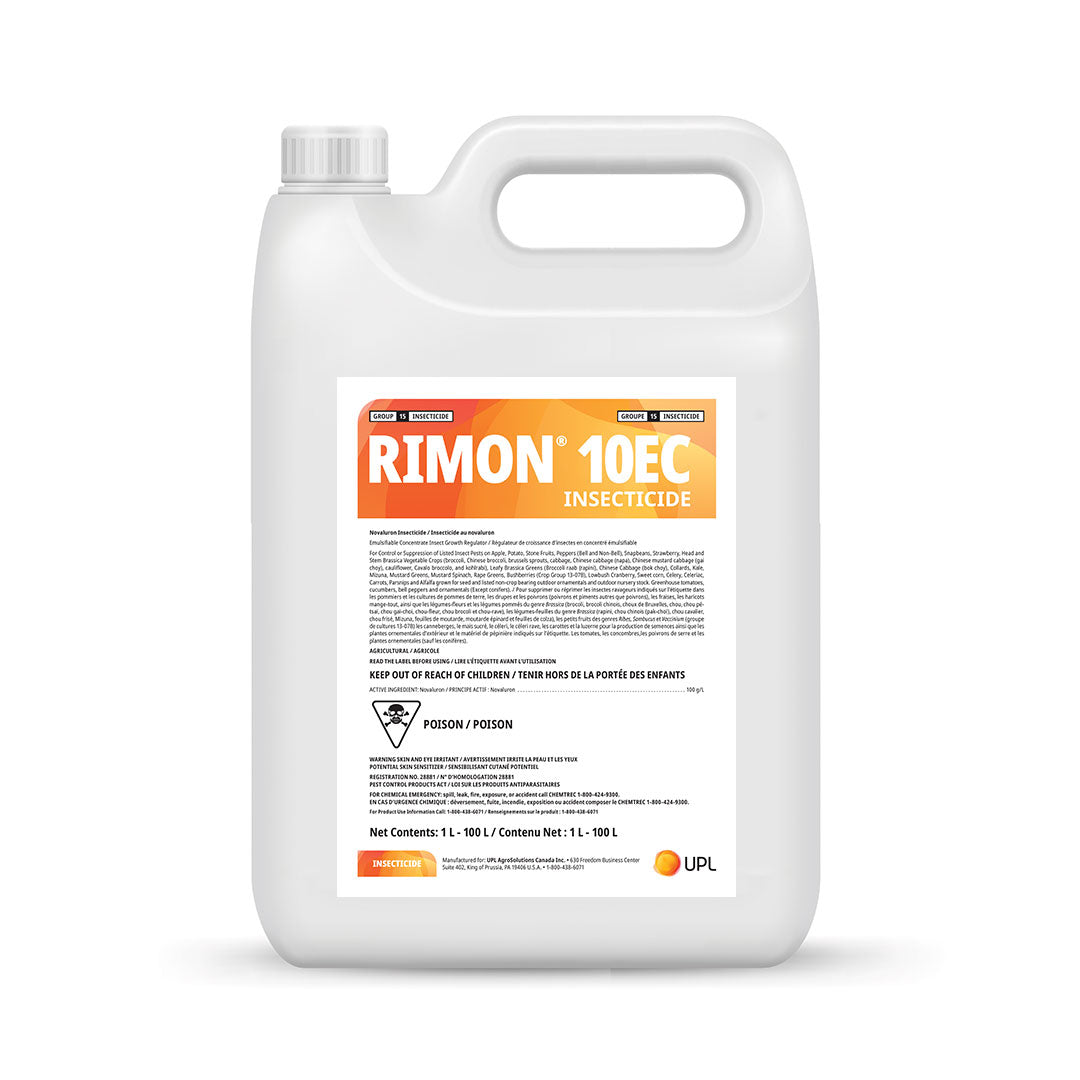 About UPL

UPL's vision is to be an icon for growth, technology and innovation. Their mission is to change the game and to make every single food product more sustainable.

Please Note:

Regulations prohibit sale of pest control products outside Canada. For more information about pest control product regulations within Canada, please refer to this summary.